The School Run - One Mile Challenge 2020
Following the huge success of recent years, we are currently accepting entries for our 2020 One Mile Challenge.
This fits perfectly against the new requirement of the School Games Mark to include a Level 0 Personal Challenge/Digital Competition.
This challenge is perfect at any time of the year and can be used as a fundraising event. The aim is for every child to run, skip, kick, crawl or bounce one mile. It is completely inclusive with children of all ages and abilities able to complete the distance.
Package includes:
A medal for every pupil, personlised with the school name recorded on it.
A certificate to download and award to your pupils at the end of the challenge
A template letter to send to parents, informing them about the challenge.
Prices are just £1.99 per pupil. The minimum number of entries is 25 for the type of medal shown. We have a range of other medals available which you can include as part of your challenge. To view these, please click here.
Interested? Please complete the form below and we will be in touch with further details.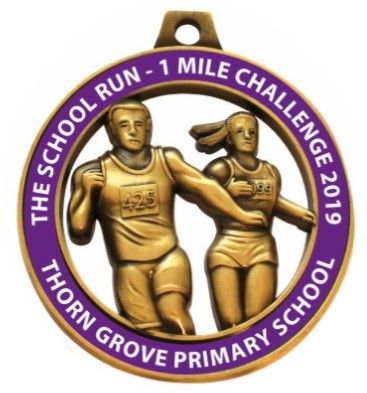 This is an example of the medal that your pupils will receive. The text along the top will read 'THE SCHOOL RUN - 1 MILE CHALLENGE 2020'