We are delighted to announce details of our One Mile Challenge 2022 for schools and groups.
Our one mile challenge is a straightforward but motivating concept. Throughout the next few months run, skip, kick, crawl or even bounce the distance of one mile. The challenge is completely inclusive with children of all ages and abilities able to complete the distance of one mile.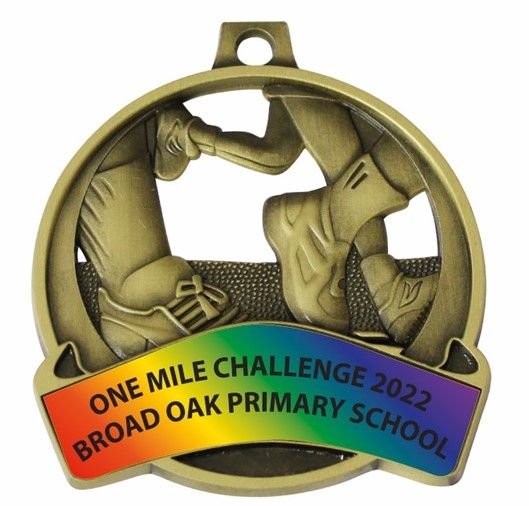 To enter this challenge, costs start at just £2.20 per person. Our challenges are a perfect way to raise money for your school and make this a sponsored event. Great for PTA fundraising! Contact us for more information on how this could work.
Would you prefer parents to pay and sign their children up? No problem! We can create a page on our website where parents are directed to sign up. That way, you don't need to worry about the admin and just have to promote the page to your parent community.
Want to choose a different distance? No problem! We can completely personalise the challenge and medal for you so please let us know if you have a particular idea. Working on a budget? We have other medals available which start at just £1.69 each - these can be viewed by clicking here.
This personalised medal shown above comes with a plain coloured ribbon of your choice and the medal can have any choice of colour and text, matching that of your school or group. Furthermore, we also provide a FREE personalised downloadable certificate for every competitor.
If you are interested or would like to find out more, please complete the form below and we will get back to you within 24 hours.